Water blasting is an efficient, cost-effective, and eco-friendly way to remove all types of pavement markings and prepare surfaces for pavement markings. Water blasting is perfect for removing the buildup of rubber markings, paint, epoxies, and curing compounds on your airport landing strips, taxiways, roadways, parking garages, and more.
What is Water Blasting?
Highway Signings' water blasting is the most economical way to remove rubber and line markings. Water blasting is perfect for highway and airfield marking removal. It's fast, reliable, and environmentally friendly. It works on all types of markings, including:
Thermoplastic
Waterborne paints
Epoxy paints
Rubberized paints
Temporary and permanent foil backed and waffle tapes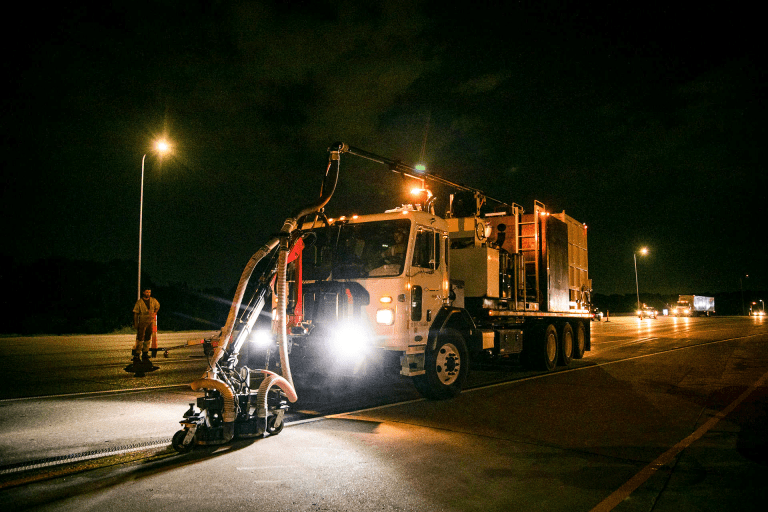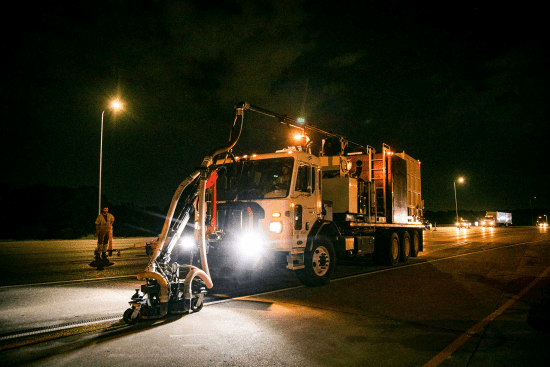 Remove Rubber and Pavement Markings with No Damage
Highway Signings' water blaster removes airport markings and runway rubber from asphalt and concrete without causing any significant damage to the surface. Our water blasting machine operates using only clean water – no chemicals or additives – to minimize damage and environmental impact. The needle-sharp water jets cut right through and easily break up rubber deposits, paint, and thermoplastics. During the blasting process, the machine simultaneously recovers the liquid and debris, leaving a clean finish.
Make Your Project Efficient
Our water blasting technology makes every job efficient. Some jobs can be completed in as little as a few hours or the same day. On a typical day, new markings can be applied to the same location after only 15 to 20 minutes. We can clean your surface and apply new markings the same day.